Situated in Kildare town, Ireland, the DE BRUIR Studio collection of leather bags and accessories combine timeless elegance with contemporary styling.
Exclusively made by master craftsman Garvan de Bruir, each piece is individually handmade using equestrian quality leather and simple, pared back, construction techniques.
Improving with age and lasting a lifetime, the DE BRUIR Studio collection is now considered a modern classic.
Keep In Touch
Sign up to stay up to date with new products, special offers and news about DE BRUIR Studio.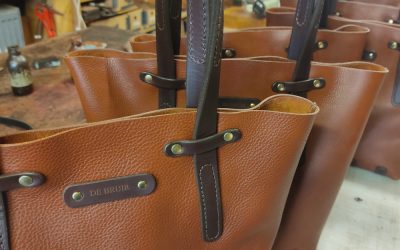 A series of our Tote bags for the Design Ireland store in Dublin Airport. The store in Terminal 2 is an initiative by the Design & Crafts Council of Ireland.
Looking forward to the release of 'The Pope's Exorcist' featuring Russell Crowe as Fr Gabriele Amorth. Due out in April. His exorcism case, shown here strapped to the back of his Lambretta 150,  was made by Garvan de Bruir. We'll find out next month if it gets a bit...
The latest addition to the DE BRUIR Atelier collection. A classic buckle-down weekender bag. Handmade to order by Garvan de Bruir.